Welcome to grow. The website for horticulture careers information.
HORTICULTURE CAREERS NEWS
Me & My Job - Daniela Coray, owner, Daniela Coray Landscapes
Grow, 03 August 2011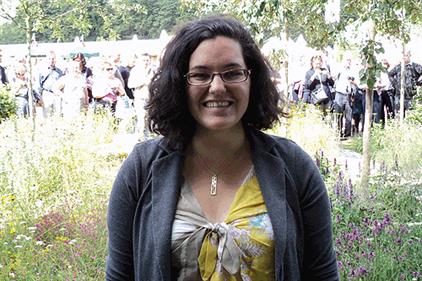 Daniela Coray, owner, Anemone Landscapes - image: HW
How did you get started in the industry? I was a florist in the US and every Tuesday the plant guy came to deliver and I found myself getting more and more passionate about that side.
I had studied art and thought I would get into garden design and England was the place to do that. Moving over was a big jump but the best decision ever.
What is your horticulture education? Richard Sneesby and Matt James taught me at University College Falmouth. The course will be more about continuing education and professional development after the final graduates leave next year. It is a shame because it was the only one in England based in an arts university and for me working with textiles and 3D designers made the course more dynamic. I'm doing a masters degree there now in art and environment.
What are you working on at the moment? I have just won the RHS National Young Designer of the Year with my garden A Stitch in Time at the RHS Flower Show Tatton Park. It also won a Gold Medal. It's been such an incredible experience and a huge learning curve.
What is the best part of your job? For me it is about plants, which I absolutely love working with, coming from a floristry background.
And the worst? I am less comfortable with hard landscaping, but designing at Tatton Park has helped.
What do you enjoy outside work? Cooking, poetry and travel, which all feed back into my work - and just living in Cornwall.
What does the future hold? The RHS has suggested that I enter Fresh, which is a new category at the Chelsea Flower Show for modular 3x3m gardens. It could be interesting and quite a challenge. The most exciting part of my prize is to help Arne Maynard on the Laurent Perrier garden at Chelsea in 2012. I can't wait to work with him.
Grow careers advice line
For information on courses and careers please call 03330 050 181 (9am - 5pm, Monday - Friday) or email your query by clicking here:
Find a college