Welcome to grow. The website for horticulture careers information.
HORTICULTURE CAREERS NEWS
Me & My Job - Jennifer Cook, sales director, Binn Soil Nutrients
Grow, 27 June 2012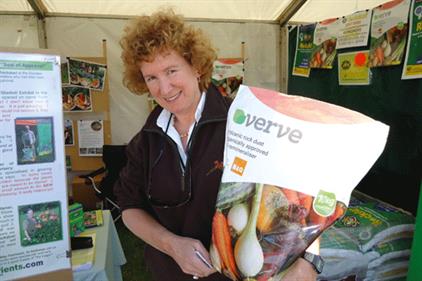 Jennifer Cook, sales director, Binn Soil Nutrients - image: Binn Soil Nutrients
How did you get started in the industry?
I decided to go self-employed using business development skills honed from 10 years with an environmental company. John Ferguson, now my co-director, recommended I visit the SEER Centre in Highland Perthshire and I was simply blown away by what they had achieved and the whole concept of soil remineralisation using mineral-rich dusts from Scotland and beyond.
What does your typical day involve?
Working in my home office with a computer and a phone - so much can be done while remaining stationary.
What is the best aspect of your job?
Without question, meeting SEER Rockdust gardeners who cannot believe the difference they have seen and trying to explain to them why more folks don't know about it.
And the worst?
Hearing "the scientists" maintain scepticism that we have something important here. Having a zoology honours degree, I regard myself as a bit of a scientist, but breaking down barriers to get people to think outside the box has proven harder than I expected.
What piece of kit can you not do without?
My computer.
How do you relax after work?
Sleep, but I do have to get my running in to keep sane.
What does the future hold? Should I mention I am getting married next month? My good man, Alex, knows I am dedicated to getting SEER Rockdust launched and, being an electrician, he simply lets me get on with it. This year got off to a fantastic start, getting SEER Rockdust included in B&Q's Verve range. But there is plenty to be done. On the scientific/trials side, necessary to convert professional growers, we plan to work with Interface to run a seminar to review relevant research and decide where to go from there.
Grow careers advice line
For information on courses and careers please call 03330 050 181 (9am - 5pm, Monday - Friday) or email your query by clicking here:
Find a college