Welcome to grow. The website for horticulture careers information.
HORTICULTURE CAREERS NEWS
Me & My Job - Alex Hankey, third-year diploma student, Kew
Grow, 11 March 2015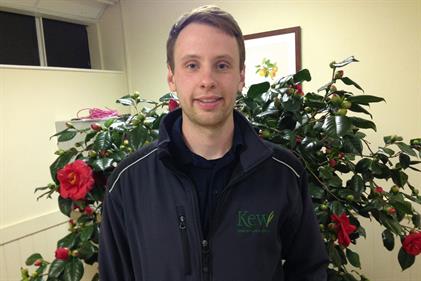 Alex Hankey, third-year diploma student, Kew
How did you get started in the industry? I did work experience when I was 15 at my local nursery in Petersham — The Palm Centre. I've worked at Squire's in Twickenham and went to Kew after doing my A levels. I'm particularly interested in South African plants.
What are the barriers to entering professional horticulture? It's still seen as a not particularly highly skilled occupation. People need to understand the number of skills you need. Some horticulturists don't go to college and start work straight away as apprentices, and don't get the theoretical knowledge. But there's an entry level for academic and practically based horticulturists.
A combination of the two is the perfect match.
What has been the highlight of your career to date? A travel scholarship to South Africa in summer 2014.
And the low point? The amount of work you have to do on the diploma.
What do you do in your time outside work? Football, sports, cycling.
What are your career plans? To finish my studies at Kew and become a gardener in Surrey at a garden open to the public. I'm also in the Young Horticulturist of the Year final at Barrington Court on 9 May after winning the South East heat. I was third in the South East in 2014.
Grow careers advice line
For information on courses and careers please call 03330 050 181 (9am - 5pm, Monday - Friday) or email your query by clicking here:
Find a college